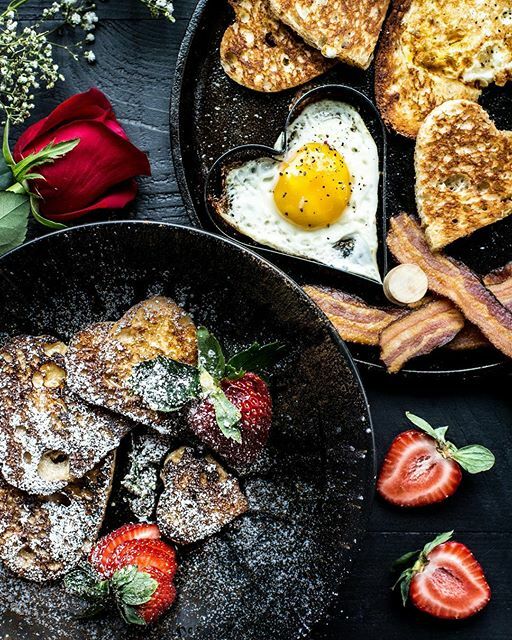 Exciting News!! Valentines Day falls on a Sunday this year!! If you've been reading a while, you know that Sunday brunch is one of my favorite things. Given the choice, I prefer a sunny, decadent brunch to a candlelit dinner for nearly any occasion! I love all of the options that brunch brings to the table (literally!). You can enjoy a savory dish alongside something a little bit sweet with a warm, mug of coffee and maybe even a strawberry Mimosa!
Looking for fun, easy, chocolatey and healthy-ish ways to celebrate Valentines Day with your family!! Keep reading for some of my favorite Valentines Day Brunch ideas!! I've even thrown in a couple easy, Breakfast in Bed options, in case you want to sleep in and enjoy your meal cozied up in your sheets!
Let's fall madly in love with these Valentine's Day Brunch Recipes!
Elevate your basic eggs and bacon with a heart shaped cookie cutter! It's totally easy, and your kids will LOVE enjoying the heart shaped versions! Maybe even in bed? Speaking of hearts—we LOVE these classic, mini Blueberry Buttermilk Pancakes. Perfect to serve along side the eggs and bacon!!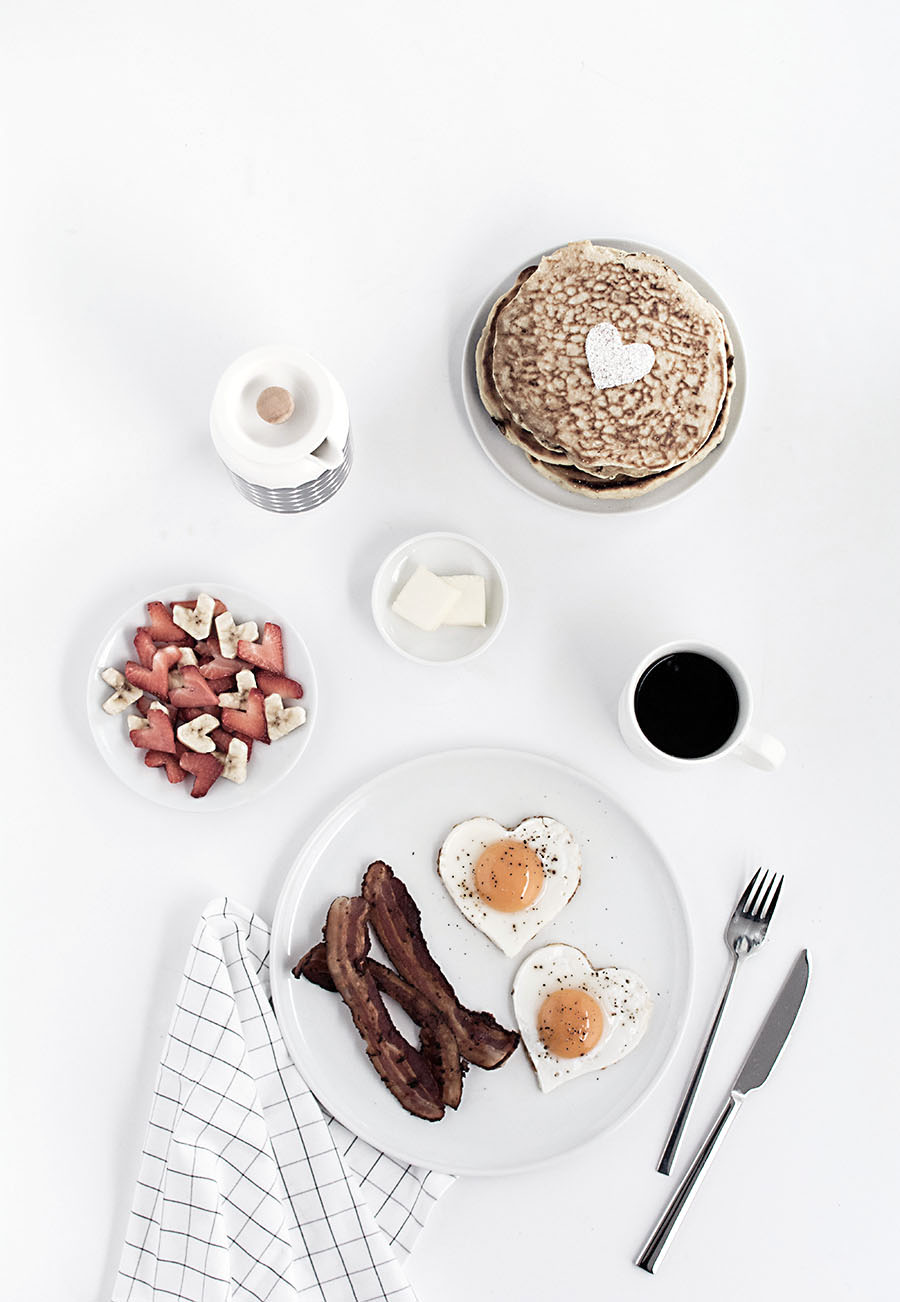 I'm not sure why these egg nests aren't on my regular breakfast rotation?! They are yummy, protein rich, provide healthy fat and portable!!! Making them an easy choice for breakfast in bed, a Valentines Day picnic or an anytime breakfast!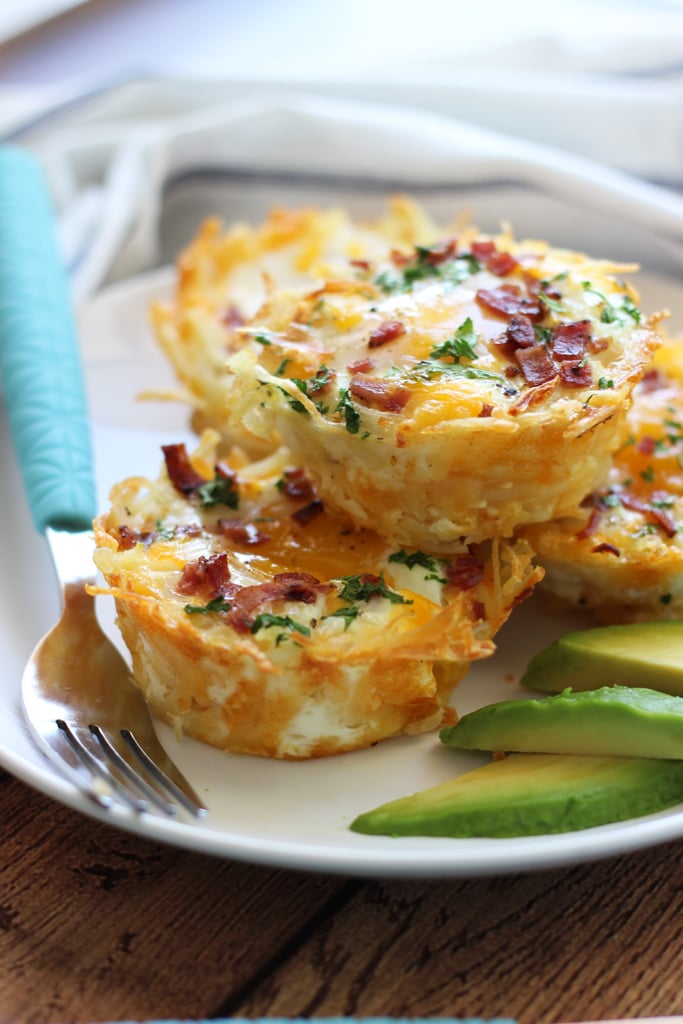 Cherry Chocolate Chip Pancakes
Say that three times fast! Ha! But seriously these are the perfect pancakes for Valentines Day. The cherries give a festive red hue, the chocolate lends a sweet, decadent flavor plus they are fluffy and delish!!! Eat them plain (like a cookie) under the covers with your kiddos, or with a warm, gooey topping at a rose adorned breakfast table!

**Note: We skip the cherry sauce–and swap for melted almond butter!
Need a more basic yet Fluffy AF Pancake? Try this banana based pancake recipe and watch how it becomes your Sunday staple!!!
Y'all might recognize this from my Christmas Brunch post, but the recipe bears repeating!! It's so yummy and one of my favorite holiday egg dishes. It's a little richer than your average casserole thanks to the smoked salmon, and the flavor is amazing!! I use almond milk and skip the goat cheese (not a fan).
Enjoy with a gluten free bagel and some fresh dill!! Yum!!
Not a fan of salmon? This Spinach Frittata is easy and yummy as well!
Nourishing, a little spicy and Paleo!! YES!! Make this mega brunch for your sweetie and watch him swoon!

Make this the night before and shine like a star on the morning of Valentines Day!! We use challah bread for a fluffy, yummy consistency and top with a mix of raspberries and strawberries for a textural red hue!
Need a gluten free, bake ahead idea? I love the baked oatmeal recipes by Eating Bird Food. She has FOURTEEN variations, so you are sure to find one you like!! We love birthday cake and chocolate peanut butter!!
Y'ALL know I can't skip my smoothie!! Even during a holiday! This one is almost pretty to drink, but after you spend the extra time making your smoothie layers you will have totally earned the right to enjoy every last drop!!
** NOTE: I added frozen riced cauliflower for a veggie, and skipped the agave! The berries provide plenty of natural sweetness!!!
Happy Brunch!!! What are you cooking up to eat under the covers this Valentines Day? Share a photo of your Valentine's Day brunch
@happydinneratx.
Happy Love Day y'all!! XOXO