Happy Monday! Happy March! Happy almost spring! After the whirlwind of February and the winter storm in Texas, I've never been more excited for a fresh start. And running water!
I'm longing for sunshine, outdoor runs, blooming Bluebonnets and fresh, vibrant produce! Who else is excited?!–keep reading for FIVE of my favorite spring recipes to enjoy this month!

Spring is all about citrus, take advantage of peak-season, zesty citrus while you can! It's refreshing, light, and filled with Vitamin C. Paired with the licorice flavor of fennel, vibrant mint and creamy avocado–it's a flavor-party in your mouth kind of delicious! Enjoy it plain, or add grilled chicken breast for some protein!
Beets definitely don't get enough love! This gorgeous red veggie is fantastic for cleansing the body and they're high in vitamin A, B & C! Make these mouth watering beet burgers ASAP. You won't even notice they are plant based and fiber filled!!
Bright, Vibrant and Bold!! This is your perfect, quick and easy weeknight dinner. I usually swap the arugula for spring seasonal spinach. My kids have a greater affinity for the sweeter flavor, and Spinach has 200% of our daily recommended value of vitamin K; essential for bone health!
I keep it gluten free by using Capello's spaghetti. It's made from almond flour and it's divine!!
Serve along side this UH-AMAZING Kale Salad with BEETS & WATERMELON RADISH —YES!! For the most colorful meal EVER!
Sheet pan dinner for the WIN!! Easy, low mess and so satisfying! We are big salmon lovers around here, and it pairs perfectly with springs bounty of asparagus!
Asparagus is a good source of antioxidant vitamins A and C, as well as various B vitamins that are good for cell metabolism.
Additionally, it's a good source of dietary fiber, providing 2 grams per half cup. It's also a particularly rich source of a type of fiber, inulin, that is a fabulous prebiotic contributing to gut health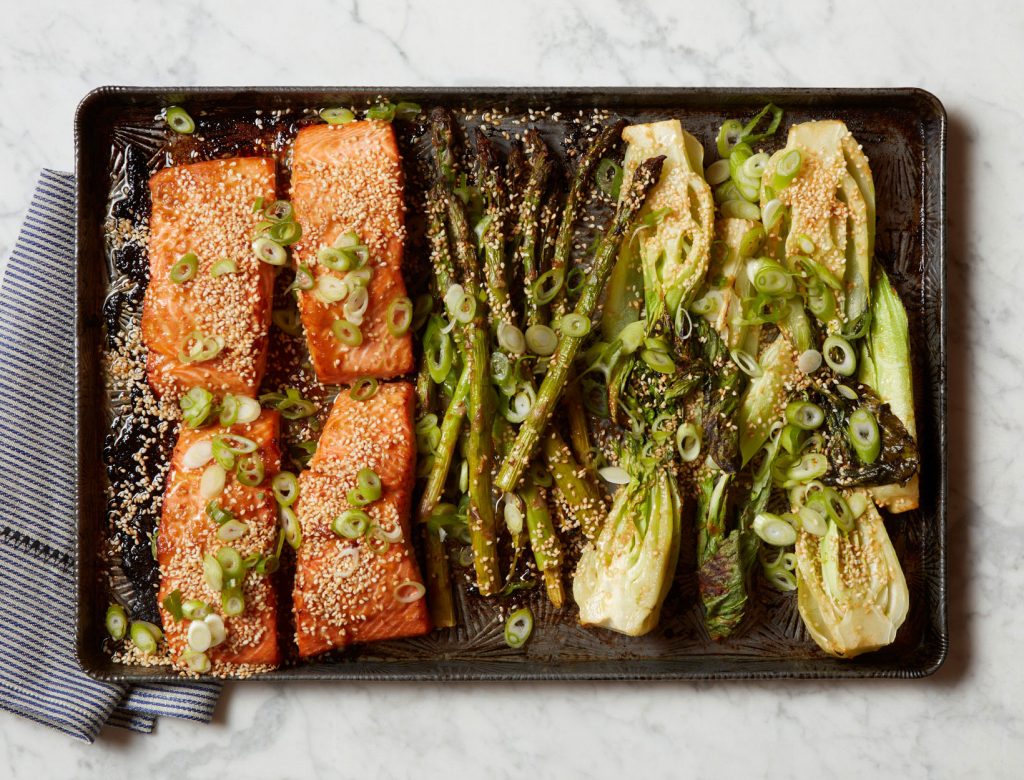 Spring is a great time to get reacquainted with artichokes!! Our kids adore them–especially with my a ghee, mustard dipping sauce. My north eastern husband had never even eaten an artichoke until I steamed one for dinner!! It was love at first bite, and I've been making them every spring ever since!!
We usually serve ours with grilled chicken legs or a store bought rotisserie chicken to keep it easy!!!
A 2004 study by the USDA found that artichokes are among the vegetables richest in antioxidants.
One artichoke offers 3.5 grams of protein and 10 grams of fiber, which are great for satiety (a fancy word for filling you up) — as well as digestive health.
Artichokes are also a good source of vitamin K, folate, magnesium, and vitamin C.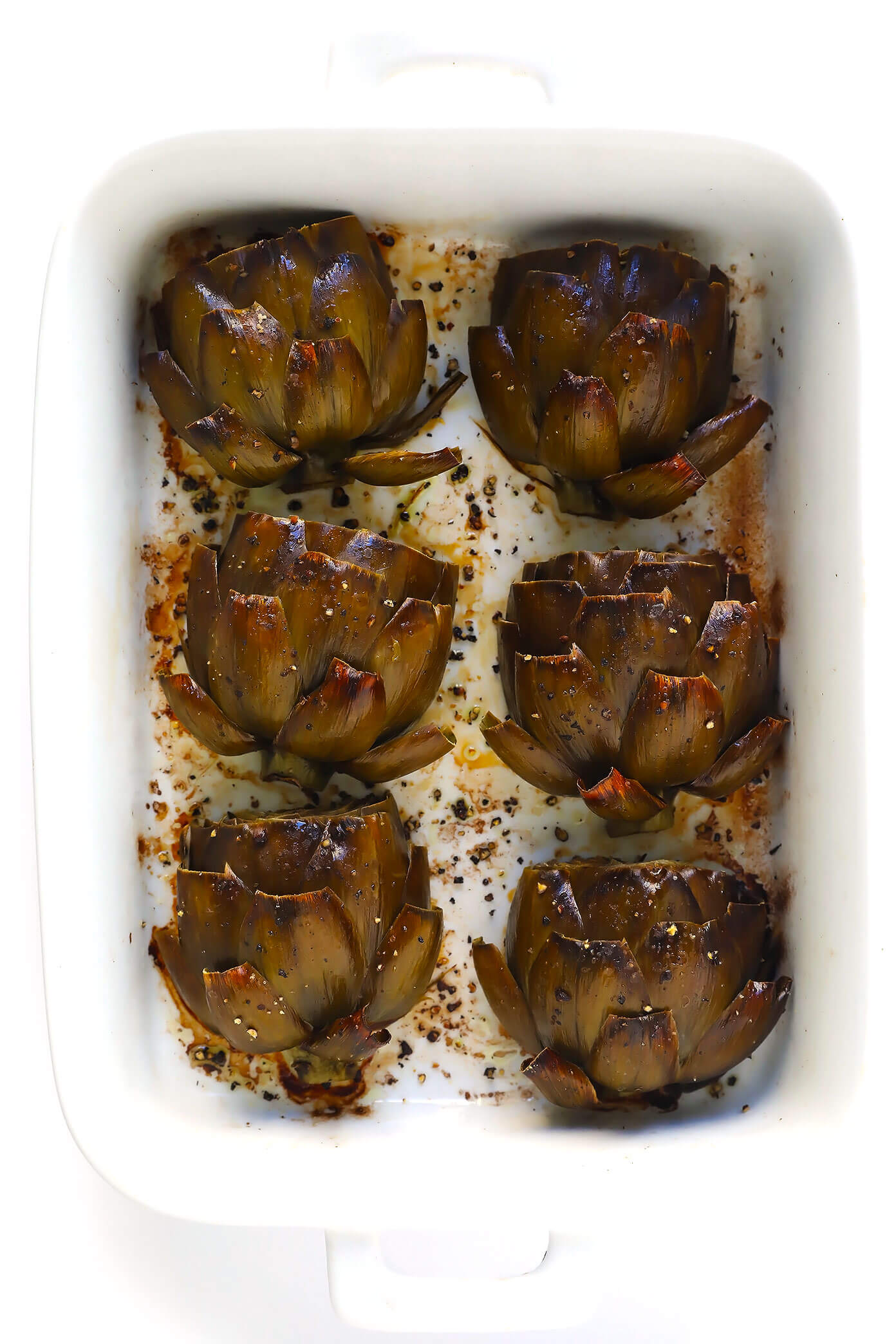 No better way to celebrate strawberry season, than with this paleo strawberry crumble. Serve it as part of an amazing weekend brunch or as a decadent dessert alongside coconut milk ice cream!
This healthy strawberry crumble is easy to prep and only takes about 10 minutes to bake. Plus, it's sweetened only with maple sugar and syrup and made both Paleo + Vegan friendly, so it's easy to accommodate everyone. It's also egg-free and coconut-free as well.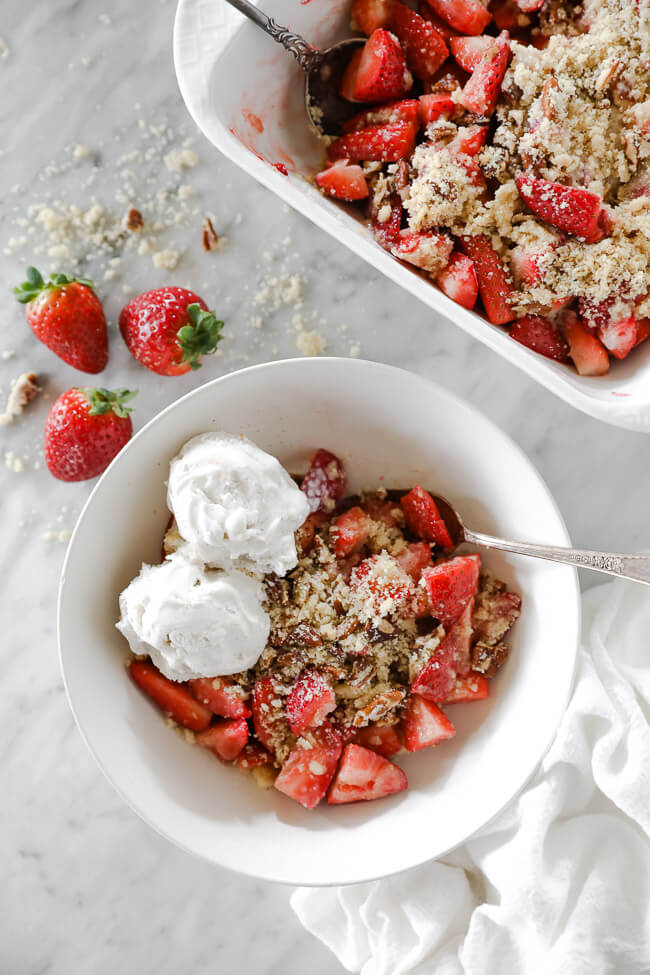 Technically that's six recipes :). I had to throw a sweet, strawberry treat in there!! Our kids eat ALLL the strawberries over spring and summer!!
Enjoy! XO