To have a joyous relationship with food, you need to feel connected to it!
What strengthens your connection? Getting excited about recipes that include food you love, shopping for the ingredients & preparing your meals at home!
I've noticed this notion unfold with our children. The more I've involved them in my trips to the farmers market or to the grocery store, the more curious they become about new produce or protein. It's also no coincidence that on evenings I ask for their prep help in the kitchen they are more likely to enjoy AND finish their dinner! WOO HOO!
How do you find the joy in cooking? You need to find a food shopping system that works for your schedule and you need a few helpful tactics in your "arsenal".
Ditch the All or Nothing "perfectionist" approach here. See how you can dip your toe into a meal planning philosophy that works for YOU!! Finding what works for your family, in your kitchen, with the time you have is the key y'all! Let's lay the foundation!
Plan Your Week
Just because you choose to meal plan does not mean you have to detail every single meal for the entire week! (*However–If detailing all 21 meals makes you happy, brings you peace, and makes your week run more smoothly than DO IT). Meal Planning is meant to make things easier for YOU and it's not a one size fits all approach!
MY favorite way to meal plan involves thinking in three to four day increments. Usually Sunday to Wednesday or Monday to Thursday with one night (maybe two nights some weeks) of repurposed left overs!
First I take a look at our known commitments (I.E. sports, dance, work meetings, work outs & social events) and decide how much time I will have to put our meals on the table. Second I decide on seasonal meals we feel like making/eating + take note of what's on sale. Third I make my grocery shopping list. I love that I'm able to have a framework for our meals that allows for flexibility and helps to keep our food waste low!
Every shopping trip includes:
A Restock of needed pantry items & frozen food items
Items needed for Breakfast & Smoothies
Fresh produce & deli meat for snacks and lunch
Three to four family dinners: One or two of which is plant based.
Saves time & money and great for varying your micronutrients!
**Plant Based Meals: Seasonal salads, grain + veggie bowls, egg + veggie frittata, cauliflower steaks & lentils, zucchini lasagna, bean/veggie tacos.
If you need a shopping list template, send me a note!
Sketching out our meals in advance naturally leads to meal preparation! I tend to look ahead and see what dressings or sauces I can mix up or what produce needs to be chopped for the week. Sometimes I even batch roast veggies or chicken breasts to get ahead of the game.
If you find yourself throwing out unused fresh food each week, it's time to revamp how you are meal planning and food shopping! I can help You!!!!
That's one of the things I'm most proud of; I rarely throw out any fresh food. It's simply too precious y'all! Our lunch includes left over dinner 99% of the time–this tactic helps reduce food waste big time!
Strategically Stock Your Pantry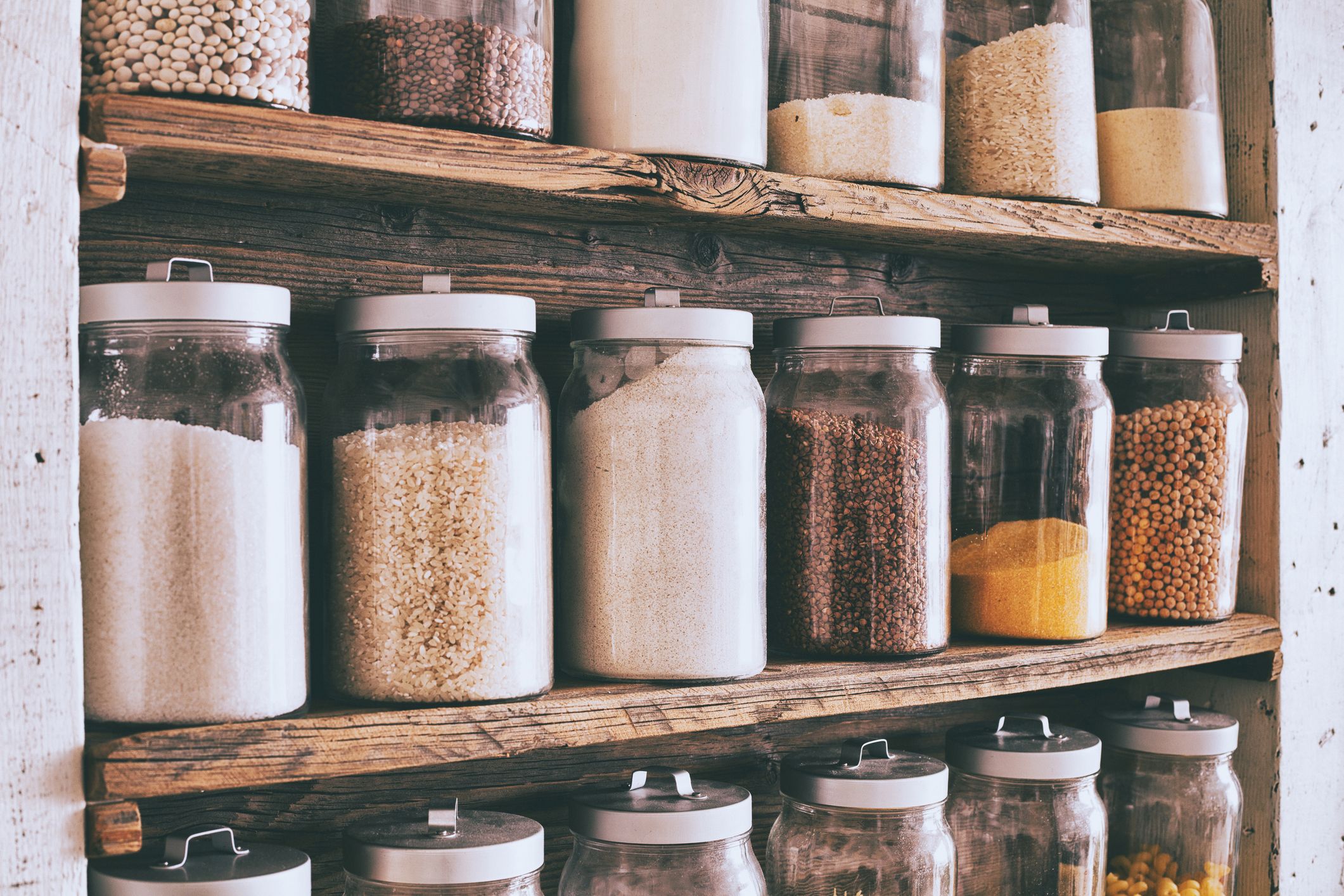 Keep a running list of the items your family relies on most and be sure those items live on your grocery list! The pantry and the freezer are my saviors when it comes to re-purposing left overs, or when I just need something quick and easy after a long day. They've also definitely saved the day after a mishap with a new, over ambitions dinner recipe. Consider making room in your pantry for the following items. Also take a peak at my Top Pantry Staples blog post below.
Canned Wild Salmon, Tuna, Sardines, Anchovies
Beans, Lentils, Grains, Quinoa, Rice, Oats
Raw Nuts & Seeds: Walnuts, Pepitas, Pine Nuts, Cashews and Marcona get the most use over here. I love them for pesto, salad toppers and nut milk!
Bone Broth Protein & Collagen Peptides
Olives, Capers, Tapenade, Artichoke Hearts, Pickled Veggies and Roasted Peppers
Jarred Sauces & Salsas
Spices: Garlic, Rosemary, Dill, Oregano, Salt, Pepper, Cinnamon, Chili Flakes
Condiments like EVOO, Avocado Oil, Tahini, Honey, Maple Syrup, Coconut Aminos, Sesame Oil, Canned Coconut Milk, Miso, Bone Broth, Chicken Stock
Dried Fruit or Veggies for salads or snacks
Salty Aged cheese like Parmesan and meats like turkey pepperoni and Proscuitto have a long shelf life and can easily enhance a quick lunch or Italian night!
A Loaded Freezer: Like an Emergency Savings Account for the Kitchen!
No shame in using frozen protein and veggies! Frozen items tend to be frozen soon after processing, meaning a lot of the nutrients are preserved!
Fruit for smoothies/baking/snacking (berries, grapes and bananas freeze especially well). I'm known to take fresh fruit and throw it directly into the "smoothie freezer drawer" before it expires!
Veggies for Easy Sides! (Edamame, peas, broccoli, Brussels sprouts, spinach, cauliflower, cauli rice,)
Pre-cooked grains that can simply be reheated in minutes
Paleo Lasagna Sheets, Spaghettti, Fettucine & Gnocchi
Wild Caught Fish (and shrimp!)
Organic Chicken Wings & Organic GF Chicken Nuggets
Organic Ground Beef, Tenderloin & Ribeye Steaks
Organic Chicken Breast and Organic Ground Turkey
Various Burgers (Bison, Grass Fed-Beef, Turkey, Salmon, Umami Beef). I switch it up!!
Pro-Tip: Use an ice cube tray to freeze left over broth or chopped herbs in EVOO to cook with in the future!
Happy Meal Planning!
I'd love to know what works for you!! Share your favorite tips below!! Having trouble finding your groove? Feel free to reach out. I can review your family schedule along side you and help you create a framework.