Zia is officially in Kindergarten, and I'm experiencing all the feels! One of my dear friends gifted me this inspirational print and I just #love the message. Wishing this for Zia and for everyone as we enter this new season of life. 💕🌈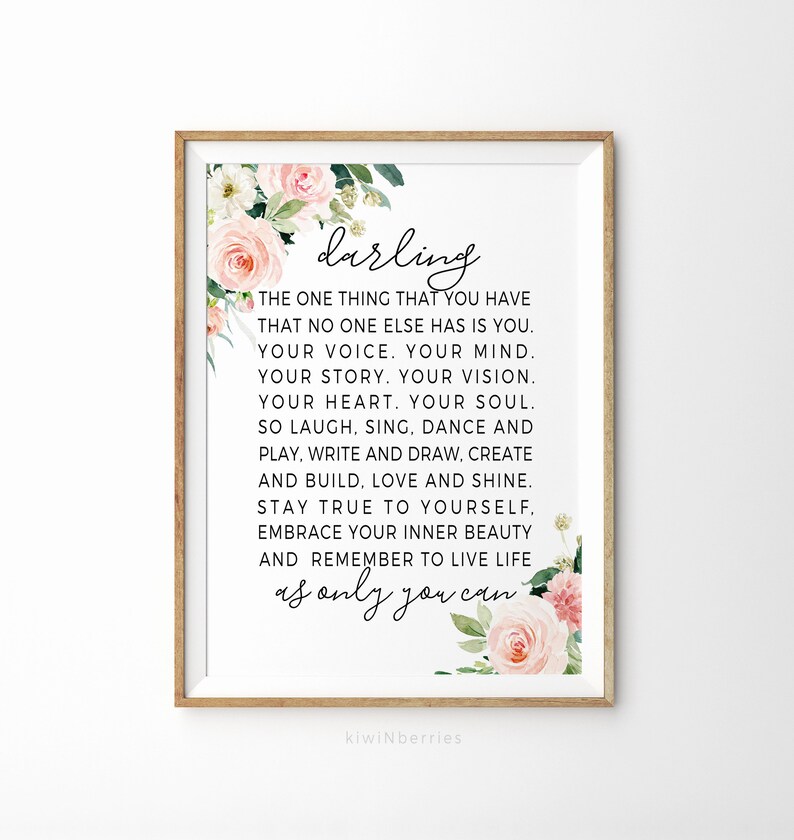 Remember to LIVE as only YOU can y'all! There has never been, nor will there ever be another you. Relish in your unique & beautiful gifts. Trust in your inner voice and the vision you have for your life. The world needs YOU. So be you!
On to the cookies….There is something nostalgic about enjoying chocolate chip cookies after the first day of school. It brings us all comfort and joy around here, so it's a tradition we've kept! I'm thankful the after school cookies & milk were able to pull out all of the details about the first day! The kids and I sat around the kitchen table together, and the details started pouring out!! If your are seeking information from your loved ones–pull up a chair & plate a warm batch of these cookies! Works like a charm.
 These cookies are decadent, gluten free, and made with whole ingredients! This recipe makes 2 dozen. We baked 1 dozen today, and put the remaining dough in the freezer for a rainy 🌈day. Moderation is key y'all even when it's a "healthy "treat".
GF Chocolate Chip Peanut Butter Cookies
Decadent, delicious, creamy and gluten free! The perfect after school celebratory treat the whole family will enjoy!
Ingredients
2

Sticks of Cultured Unsalted Butter

Softened

1

Cup

Organic Creamy Peanut Butter

1/2

Cup

Organic Sugar

1/2

Cup

Coconut Sugar

2

Eggs

Room Temp

1 1/2

tsp

Organic Vanilla Extract

1 1/2

Cup

Gluten Free Flour

Trader Joe's Brand

1

Cup

Coconut Flour

1

tsp

Baking Soda

1

tsp

Salt

Skip if PB is salted!!

2

Cup

Semi Sweet Chocolate Chips
Instructions
Pre heat your oven to 300 degrees and prepare your baking sheet with parchment paper or a silicone baking sheet.

Cream your butter, sugars and peanut butter with a stand or hand held mixer for 2-3 minutes.

Add your eggs and vanilla extract and continue to mix on low for 2 minutes until well combined and creamy.

With mixer on low, add flours, baking soda and salt (if using) and mix until well combined. Finally–fold in the chocolate chips

Using an ice cream scoop (or your hand) create round balls the size of 3 TB and place onto your baking sheet about 2 inches apart.

Bake for 22-25 minutes. Edges should be golden brown while center remains soft!