I'm especially grateful for Thanksgiving this year!! Y'ALL–We deserve a celebratory, nourishing, lingering meal around the dinner table with our family! 2020 has been quite the year for all of us…And I don't know about you, but I'm looking forward to slowing down and savoring the holiday season!! Now more than ever!
If you've been a reader for the past year, you know I've basically automated our Thanksgiving menu and prepare roughly the same paleo, healthy-ish, recipes every year. It's less stressful, there are fewer surprises and my shopping list is pretty much done.
Spoiler alert–I usually buy a pre-cooked organic turkey and simply reheat it before our meal. Maybe one day I'll perfect the full on turkey like a real "hostess" but for now I have enough going on with all the sides. And let's be honest–The sides, salad and dessert totally make Thanksgiving in my opinion!!!
If you are in need of a simplified guide to buy, prep, cook and carve your Turkey, Yummly has a great step-by-step guide! It seriously has all the goods ~ Check it out!! Moving right along!
The Appetizer
I always prepare these bite size Sweet Potato Toasts for our family to nosh on while I am getting the main meal together!! Sweet Potatoes are delish & so easy to roast! The fiber and protein keeps blood sugar evenly balanced so the kids aren't hangry, reaching for sugary treats pre-turkey dinner!
Print Recipe
Sweet Potato Toasts
I'm a lover of these bite sized, sweet potato toasts! They are easy to prepare and the topping options are endless!
Ingredients
3

Large Organic Sweet Potatoes

(Wide & Short over long and skinny)

3

tbsp

olive oil

1

tsp

Cinnamon

1

Container of Kite Hill Dairy Free Herbed Goat Cheese

*or regular Goat Cheese if you aren't dairy free

1

Large Avocado

8

oz.

Organic Prosciutto

8

oz.

Wild Caught Smoked Salmon

1/2

Cup

Pomegranate Seeds

1

Block Aged Raw Cheddar

1

Large Pear
Toppings: Fresh Thyme, Honey, Candied Walnuts, Pumpkin Seeds, Sea Salt & Pepper
Instructions
Preheat Oven to 400 Degrees & Prepare two baking sheets with parchment paper

Cut the ends off the sweet potatoes and slice them into 1/4 inch rounds to create your bite sized "toasts"

Toss the sweet potato rounds in a large bowl with olive oil, cinnamon, salt & pepper.

Place the sweet potato rounds on your prepare baking sheets and bake for 15-20 minutes. Remove from oven, flip the rounds and continue to bake for 10-15 additional minutes

Remove from the oven and spread with your favorite combo of flavors. I do a mix to appeal to several flavor profiles

Option 1: Layer a smear of Kite Hill Dairy Free herbed goat cheese on the toast, Top with sliced pear, honey and fresh thyme.

Option 2: Layer herbed goat cheese on the toast and top with prosciutto and fresh thyme

Option 3: Add a slice of aged Raw Cheddar and top with candied walnuts and honey

Option 4: Layer your toast with a smear of Avocado and top with smoked salmon and pomegranate seeds

Get Your Greens On! Super Salads
Make your greens the day before Thanksgiving to save your sanity, and simply dress and toss before serving!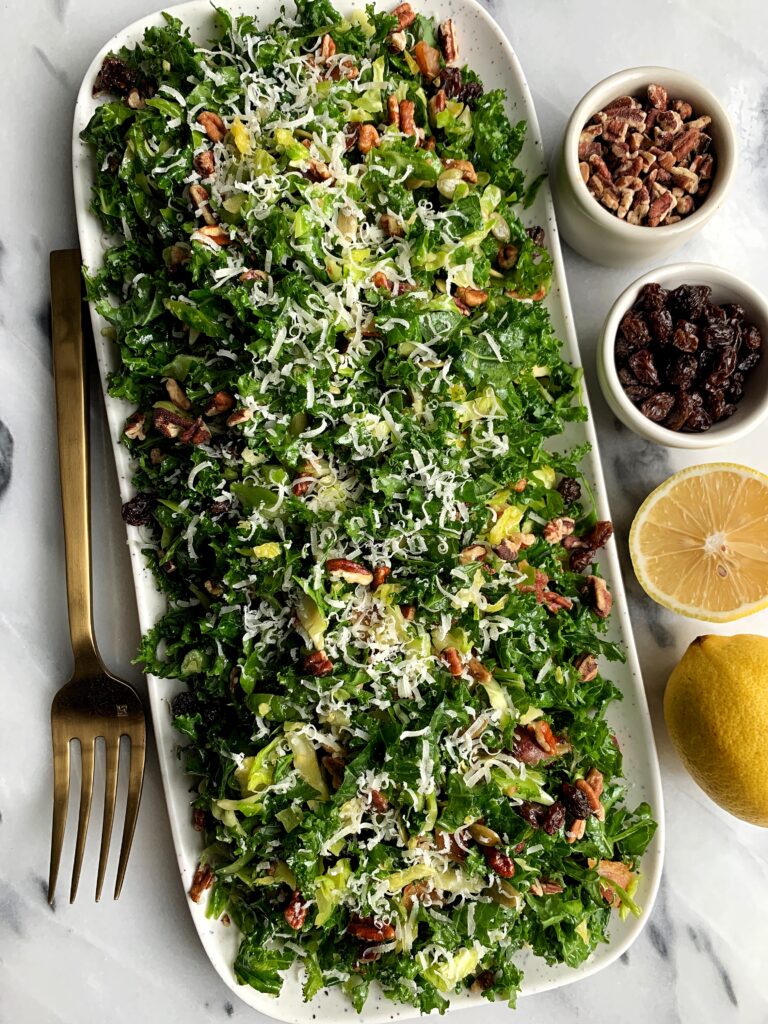 Searching for the best ever salad-ish side dish to make for Thanksgiving? I love this Kale + Brussels Sprouts Slaw by Rachel Mansfield. It's super healthy, flavorful, easy on the eyes and only takes five minutes to throw together. Getting your greens in has never tasted so good!
Another option is this gorgeous Kale & Delicata Squash Salad by Health Magazine. I've literally been enjoying it almost weekly ALL of FALL!! The Tahini Maple Dressing is simply divine–even by itself. I'm hoping my family will allow me to slide this one on our dinner table.
Grain Free Sides
Parsnip Puree by Love and Lemons
The Cauliflower, Parsnip Mash is so creamy, your kids will fully believe it's made from whipped potatoes! Besides being delicious, the recipe is also vegan, gluten free and so easy to make ahead!
This is my MOST favorite Thanksgiving side! It was the very first Paleo Thanksgiving side I ever made (way back in 2014) and I was amazed at how this veggie mash parallels legit mashed potatoes.

*Tip–I usually make it the day before and simply heat it on the stove an hour before our meal!
So many things to love about this recipe.
1. Your kids will LOVE this recipe thanks to the maple syrup
2. The rainbow colors look so pretty on your Thanksgiving dinner table
3. The smell of these babies coming out of the oven is divine!
I also love these Herb-Roasted Root Vegetables if you are feeding a sophisticated palette
This one is a new holiday recipe for me this year!! I came across it last week and it totally spoke all of the senses of fall to me! I plan to simply swap the wheat panko crumbs for a gluten free version from Trader Joe's to make this dish Paleo!
Rich and creamy like the one Grandma used to make but healthy-ish!
Usually Green Bean Casserole isn't my thing, but I can totally get behind this recipe.
4 simple ingredients!! All natural. Serve some up on the side of your turkey and enjoy!
Y'all are in for a treat with this recipe!! SOOOO Good! Classic rich flavor, savory and creamy! Just how we like our stuffing! Make sure you use a sourdough loaf that's good quality, crusty and flavorful.

Looking for a sweeter alternative to class stuffing?? This Butternut Squash Casserole recipe can totally accompany your turkey and add a pop of color to your plate!
Speaking of plates!! Don't forget to balance yours!! Yes–even during the holiday season you can make sure your plate includes greens, protein, fiber and healthy fat! To learn more about how to balance your meal every time, including the holiday season read this!
Paleo Desserts to Savor
I love sweet treats that are delicious and don't send you spiraling towards a sugar high headache!!
Here are a couple of my favorite holiday treats for Thanksgiving

Gluten Free Pumpkin Squares made with Simple Mills Grain Free Vanilla Cake Mix! Serve it a warm square with DF Vanilla Bean ice cream and chopped pecan pieces.
BEST EVER PALEO PUMPKIN PIE BARS!!!!
or THESE delicious, seasonal crisps.
Apple Crumble Recipe
Pear Crisp Recipe
BONUS–they also doubles as post holiday breakfast!!
Wishing you a very Happy Thanksgiving!! Take the time to savor the season and give thanks for your health, your family and all of the blessings that fill your life!!!