Food waste and "household" waste in general is one of my biggest pet peeves! Meal planning helps with food waste a ton, but we can work even smarter!! My goal is to remove the need to throw out ANY spoiled food! Anyone with me?
My heart literally breaks when good (expensive!!) food goes into the trash. So many people work extremely hard, every single day, to bring fresh, food from the farm to our dinner table. It's truly a magical, logistical process, and one I don't take lightly! For that reason I work really hard to try and re-use and repurpose as much as I can in our kitchen. Veggies being a top repurposing priority. They are worth their weight in gold y'all!
Whether the kids didn't touch our amazing roasted root veggies at dinner or I made too large of a salad at lunch, there are plenty of dishes you can re-create with a handy mix of pre-cooked, left over veggies.
Keep reading for the BEST ways to use leftover roasted veggies!!
---
Veggie Pizza
---
Top your Pizza with left over roasted veggies to add fiber, plant based protein and phytonutrients! The kids will be excited for a pizza night, and may even become inspired to try a few new veggies over family dinner! Our favorite veggie pizza toppings include basil, cherry tomatoes, mushrooms, olives, onions, squash, spinach, & peppers!
Veggie Omelet
---
An omelet is an amazing, high protein, high plant powered way to start the day!! Plus it's delicious and you can't go wrong. You can add almost any vegetable to eggs + avocado. Try to prove me wrong!!

Here is a link to 15 veggie omelet dishes to inspire you toward a plant based omelet during your next brunch at home!
Roasted Veggie Salad
---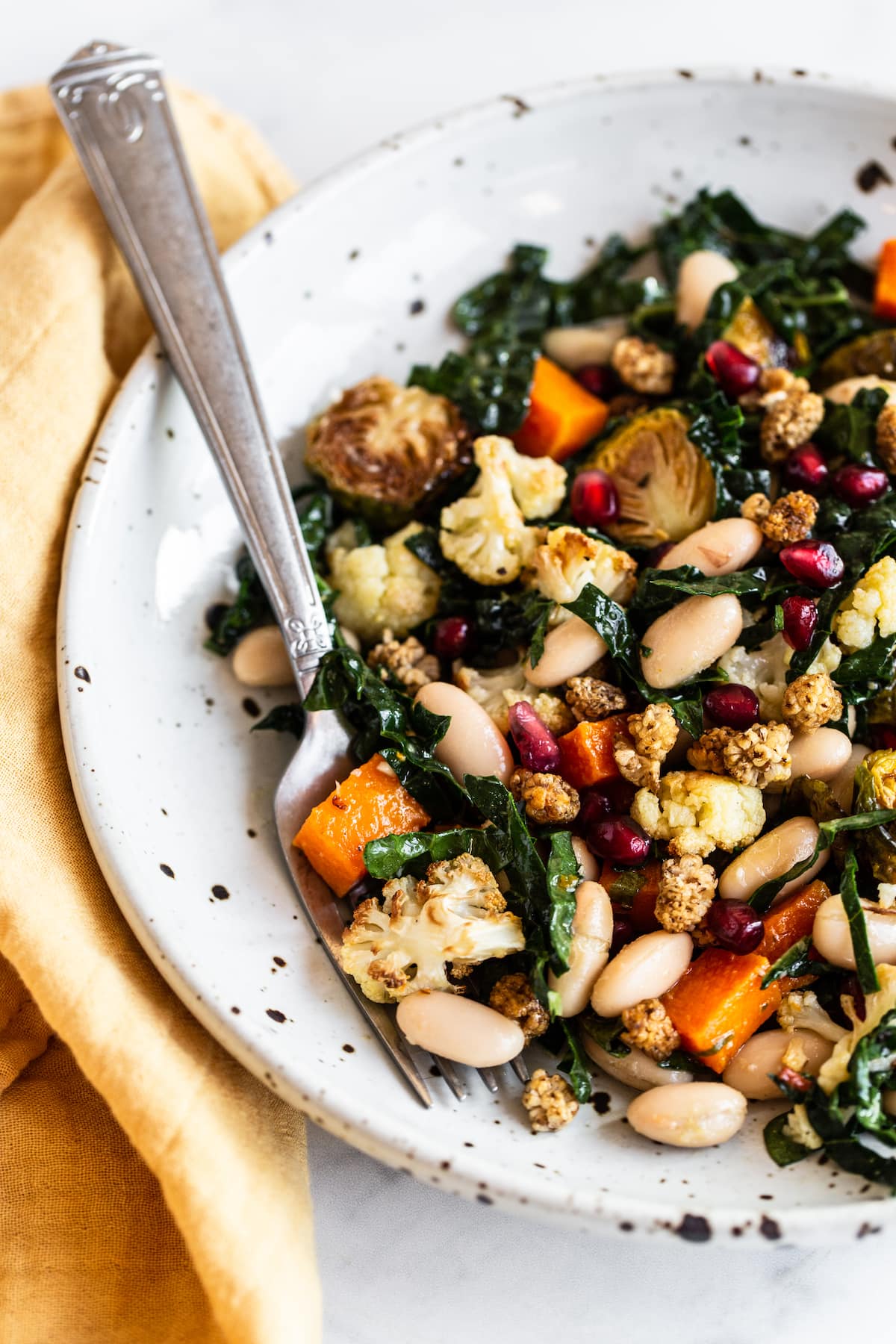 Turn left over roasted veggies into a beautiful salad!! It sounds almost too obvious or too easy, but it's the perfect meal!!! I love THIS Roasted Vegetable salad by Eating Bird Food. I could literally eat it daily. Super nourishing and satisfying!! You can also just simply toss any left over roasted veggies with a hearty kale or romaine, add dressing and a crunchy topper like roasted chick peas and you are in business!
Veggie Lasagna!
---
Leftover roasted chicken thighs, zucchini and mushrooms? Simply add them to the layers in your Veggie Lasagna!! The family will enjoy the NEW texture and the unique flavor. Plus you are eliminating food waste! Winner Winner Chicken Dinner!
Veggie Grain Bowl
---
Y'All grain bowls are my JAM! Seriously one of my favorite ways to use up left over veggies!! So beautiful, versatile, flavorful, textural, satisfying and nourishing!! You really cannot go wrong!!! If you need a recipe, THIS ONE is out of this world!
---
YUM!! Veggies like roasted squash, zucchini, asparagus, eggplant, and broccoli make for an amazing hash! Throw them together in a sauté pan and toss in miso, avocado oil, or tahini sauce for a flavorful medley. We like to top ours with a fried egg and a side of spicy arugula!